Welcome to the best exotic animal park tours in the western Caribbean. Our Roatan sloth & monkey tours are rated
#1 in Central America.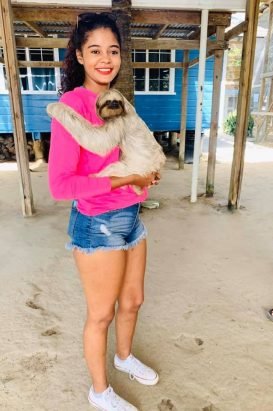 Roatan Sloth Tours™ brings animal lovers from around the world together, to interact with exotic animals from Central America's rainforest canopy. These beautiful creatures have inspired many locals in the Bay Islands in protecting them and bringing awareness to their ever changing environment. Through education and conservation, we have hope in future generations to come.
Roatan Sloth Tours™ visits the most popular animal parks on the Island. The animal parks include: AJ's Monkeys & Sloths, Daniel Johnson's Monkey & Sloth Hangout, Gumbalimba Park, Manawakie Eco Nature Park, Mayan Eden Eco Park, and Victor Bodden's Monkey Business.
Toll -Free 1-800-525-5915
All animal park tours include roundtrip transportation from port or place of stay.
ROATAN SLOTH & MONKEY TOUR
Interact with exotic animals like Capuchin White-face Monkeys, Sloths, Scarlet Macaws, and more!
Tour add-ons include: snorkeling, zip-line adventure, beach break, and much much more!
PORT DROP-OFF & DEPARTURE
We know you're sad to leave your new found friends, but it's time to return to port for departure.
Port of Roatan
Coxen Hole, Roatan
Bay Islands, Honduras
Mahogany Bay Cruise Center
Dixon Cove, Roatan
Bay Islands, Honduras
info@roatanslothtour.com
Tel: +1-800-525-5915
Sloth News and Excursion Deals!
By subscribing to the monthly newsletter, you are agreeing to receive one monthly email with news, offers, and information from Roatan Sloth Tours®. Visit our Privacy Policy. Easy unsubscribe links are provided in every email.